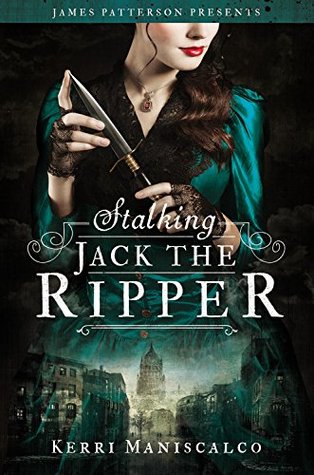 My rating: 4 Stars.
Date finished: 24/4/18
Date published: 20/9/16
Synopsis from Goodreads:
Presented by James Patterson's new children's imprint, this deliciously creepy horror novel has a storyline inspired by the Ripper murders and an unexpected, blood-chilling conclusion...
Seventeen-year-old Audrey Rose Wadsworth was born a lord's daughter, with a life of wealth and privilege stretched out before her. But between the social teas and silk dress fittings, she leads a forbidden secret life.
Against her stern father's wishes and society's expectations, Audrey often slips away to her uncle's laboratory to study the gruesome practice of forensic medicine. When her work on a string of savagely killed corpses drags Audrey into the investigation of a serial murderer, her search for answers brings her close to her own sheltered world.
The story's shocking twists and turns, augmented with real, sinister period photos, will make this dazzling, #1 New York Times bestselling debut from author Kerri Maniscalco impossible to forget.
My review:
I had been looking at this book for a few months and deciding whether to read it. If you follow my reviews you may notice that crime/horror/thriller are my top favourite genres. I am also always on the look out for something a little different. What drew me to this book (apart from the gorgeous cover) is the strong female lead in a time where this wasn't really allowed. I don't specifically go out of my way to just read books with female leads, although I do read alot of them.
This book did actually take me a good several sittings to get through. Sometimes I would read big chunks and other times I wouldn't. The story read somewhere between fast and slow paced. Overall it was generally quite easy to read which I always like in a book. There was only one thing that niggled me whilst reading this book. Although it doesn't say in this synopsis from Goodreads, on the back of the book it does mention that our main character loved the ripper and this gave me a biased approach to looking for who the ripper might be. If you are going to read this book, don't fall into this trap as we don't really have any clues to who the ripper is until the back end of the book and it is not quite as obvious as you may think.
The author does a really good job of creating a dark atmosphere and letting us into an environment of the late 19th century London. The way Maniscalco describes London and the way the bodies are shows an author who has done her research and create the perfect atmosphere. These were some of my favourite parts of the book. I'm not too sure on how much I really liked Audrey. She was an ok character but I'm not sure if I felt like I was rooting for her to find out who the ripper was.
Overall, I enjoyed this book. The series is definitely going to be something I will look to keep reading. Although there is quite a bit of detail to the murders and everything that goes with it, I can still feel the YA side of this book. If you're only starting to get into this genre, then this book is a great start. I look forward to picking up the next book!
Happy reading :)